VSNL Datacenter in India (Mumbai, Bangalore, New Delhi & Chennai)

Impulse Web Hosting offer hosting solutions on its server in VSNL Datacenter at Mumbai, New Delhi, Chennai and Bangalore in India. VSNL (Videsh Sanchar Nigam Limited) is one of the world's largest providers of submarine cable bandwidth, so shared, dedicated, virtual hosting and co-location customers get excellent speeds to deliver contents.

VSNL Internet Data Centers provide the physical environment necessary to keep your servers up and running 24 hours a day, 7 days a week. VSNL Internet Data Centers combine around-the-clock systems management with onsite personnel trained in the areas of networking, Internet, and systems management.

The Mumbai datacenter is level 3 grade DataCenter hosting many popular websites like MSN India, Yahoo India, Ebay India, Rediff.com, Indiatimes.com etc.
The result is a physical and technical environment, affording customers the reliability and flexibility needed to outsource their mission-critical system or application operation needs.

The VSNL Datacenters at Mumbai, Bangalore and Chennai have following features :

Security
The data centre is guarded with security persons for 24 hours a day and 365 days a year. A very high security is maintained inside and outside the data centre premises of VSNL.
Fire Control
The data centre is equipped with fire detection and suppression system and is equipped with FM200 (or equivalent) gaseous extinguishing systems, to provide rapid discharge and flame suppression in the event of a fire, while minimizing damage to equipment and reducing danger to personnel.
Air Conditioning
Equipment performance and life span can be significantly improved by housing the system under optimum environmental conditions. Typically, it is maintained to be around a constant 68° F., plus or minus 3° F., with humidity at a constant 45%-50%, as per international data centre standards.
Power Specifications and UPS
Main power to the Internet data center is supplied by the regional electric power utility. Two-fold resilience is provided in the form of uninterruptible power supplies (UPS) to each area. Additionally, diesel generator backup also starts automatically within seconds after a main power source failure. VSNL uses a power conditioning strategy in order to do uninterrupted business across its five nationwide datacenters.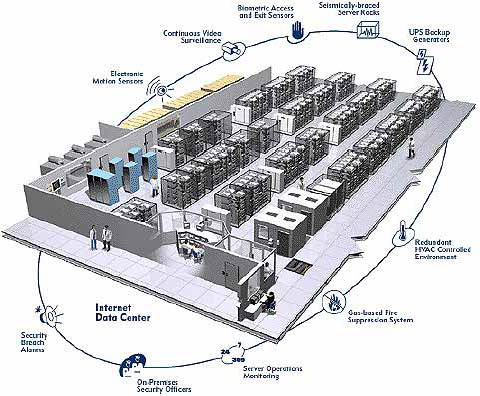 VSNL Datacenter layout
| | | |
| --- | --- | --- |
| | | |
| VSNL Datacenter | | VSNL Datacenter premises |
| | | |
| | | |
| Datacenter Security | | Datacenter Management |
We have launched server hosting at VSNL's Chennai Datacenter, Netmagic Datacenter in Bangalore and Tier IV GPX datacenter in Mumbai